Web Developer and
Digital Marketing Expert
Let's work! Email me:
arad55501@gmail.com
Arad Okanin is a highly skilled and experienced Web Developer and Digital Marketing Expert, with a strong track record of success in helping businesses generate leads and achieve their online marketing goals. With a deep understanding of the latest technologies and strategies in the industry, Arad is able to develop custom solutions that drive results and deliver value to his clients. In addition to his technical expertise, Arad is also known for his excellent communication skills and his ability to work effectively with clients to understand their needs and deliver solutions that meet their specific goals. With his proven track record of success and his dedication to delivering the best possible results, Arad is an invaluable asset for any business looking to succeed in the digital world.
Let's work! Email me:
arad55501@gmail.com

Discover your profit margin on your eBay listings with the Profit Calculator for eBay. It removes the hassle of always calculating your listing's profit and streamlines the process in a simple, user-friendly interface. Calculate & save your entries to be exported later.
Enter in your item price, shipping price and sale price to find your expected profit margin on your item. Within seconds, you will be presented with your total item cost, your fees & your expected profit. Save that calculation and identify it with a name, so you'll be able to reference it later without having to re-enter in your values. All of these useful features are packaged in a responsive user interface that is quick & fast, so you could enjoy it on most iPhones.
The Nosh – Grand Rapids Community Cooking
The Nosh is an exciting new project launching in June 2022, the goal of which is to bring community members together through the universal language of Jewish food, which is an integral part of Jewish culture, tradition, and religion. 
The idea of an online community cooking site germinated during discussions regarding the creation of a new community cookbook, a project not done for decades. Like the community cookbooks of old, The Nosh invites you to participate, this time through the website, where community members can upload their favorite family recipes. The difference is that The Nosh, unlike a traditional book, is a "living" document, constantly updating and evolving. We also encourage the submission of pictures, videos, and stories, which was either not possible or cost prohibitive with a hard copy book.
Project Implements Database Implementation (for the recipes), Google API Integrations & features a side-header design.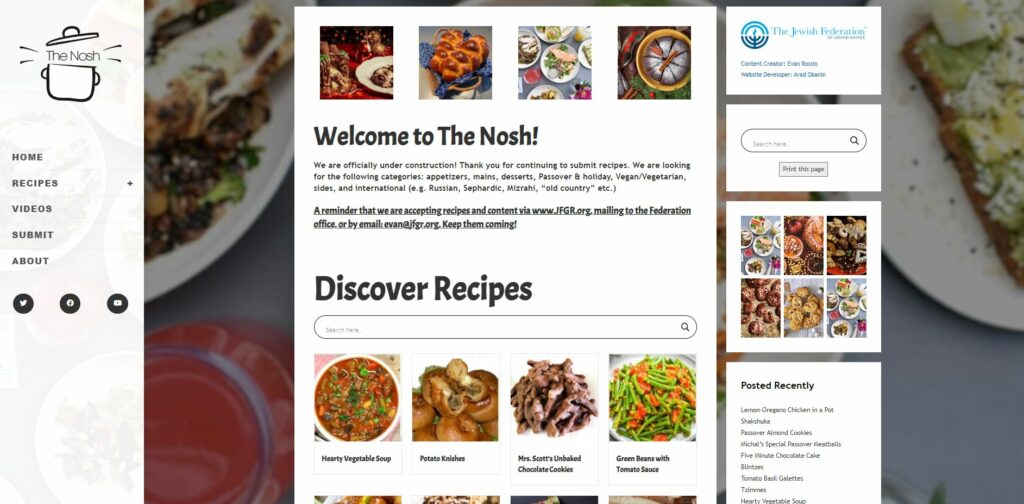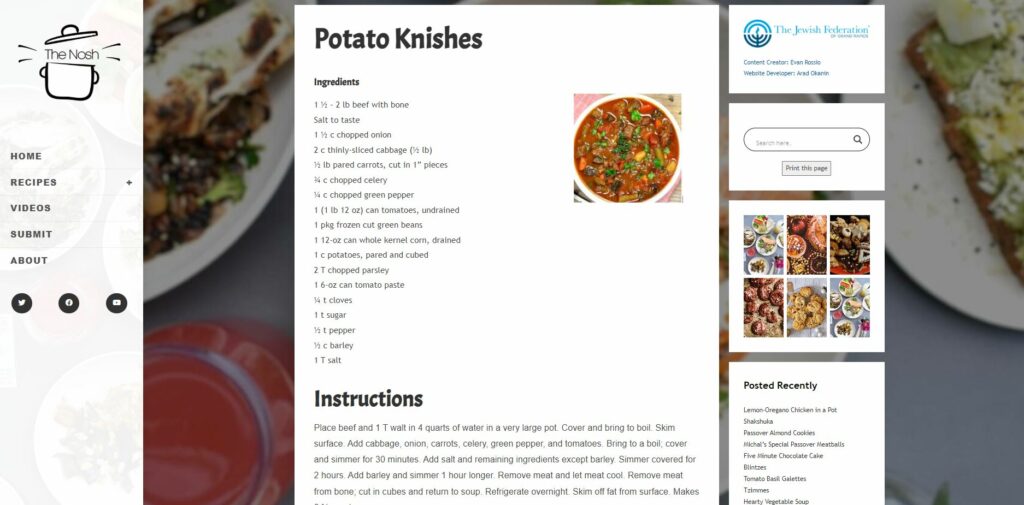 The Farsi Falmee clothing brand empowers people to embrace their heritage and accomplishments. The creator, inspired by their Oromo heritage and past struggles, aims to promote Oromo culture and inspire pride in future generations.
 FARSI is dedicated to spreading the message of empowerment and self-love to the youth and future generations. The clothing is a reminder to never give up and to always be proud of who you are, no matter what obstacles you may face.
Website introduced WooCommerce, Dynamic Pages & other eCommerce Additions. The main site is using a custom WordPress theme.
The epitome of culinary excellence, where passion for cooking and technology meld harmoniously. Our primary mission is to provide you with the finest recipes, meticulously crafted and tailored to your taste buds. Harnessing cutting-edge artificial intelligence, we meticulously analyze countless flavor profiles and combinations to ensure that every dish we present is nothing short of perfection.
Site presents article inputting, image compression algorithms, and AI-generated content.
Created a Portfolio Site for Ali Colak – a professional in the field of Computer Science and Software Development. Ali's site demonstrates a social-media-like resume that entices users to check out latest projects and connect via social media or email. The animations flow in fluidly and everything gets into shape in a clear way. Designed entirely by me.
Fully custom scripting can be shown here, with only base plugins used. Mobile & Tablet optimization can also be highlighted in this creation.
Alloy Casting Solutions – Fabricator
Alloy Casting Solutions Ltd. is a private company in Grand Rapids, MI. We make metal products for many customers around the world, especially for the defense industries. We work closely with our customers' teams to make sure our products meet their needs. We're experts in metal casting and can take a product from design to delivery, doing everything from casting to painting to packaging.
Check out the website created by Arad Okanin. Features such as quote submission are present but not activated currently.
devFlames.com – Developer Resources Site
devFlames.com is a website designed to help developers find the tools they need to get the job done. We have based the site on the AWESOME repository from GitHub, and have given it a better user interface with more options. We keep adding new resources and content to this site to make it better and hope that our users continue to give us input on what things they'd like to see.
Visit this website project to see custom database work, SEO optimized menus, and use of non-copyrighted photos. As the website grows, the team will keep adding additional features and types of content to make the experience more fluid.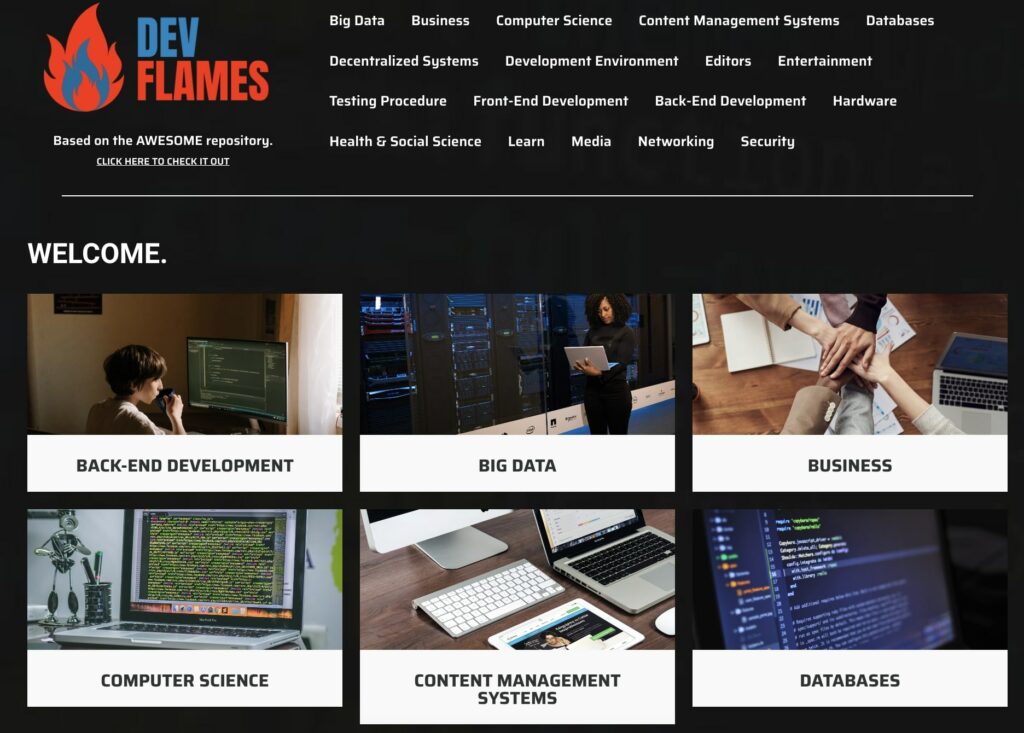 PlantyPedia – Plant Directory
PlantyPedia is a directory for all plant lovers. Learn the in-and-out of growing various plants such as herbs, vegetables, and fruits. Our goal is to develop this database with over 500 of the world's famous plants – all possible to grow within the comfort of your home. Check this website out if you love nature.
Site presents article inputting, image compression algorithms, and AI-generated content.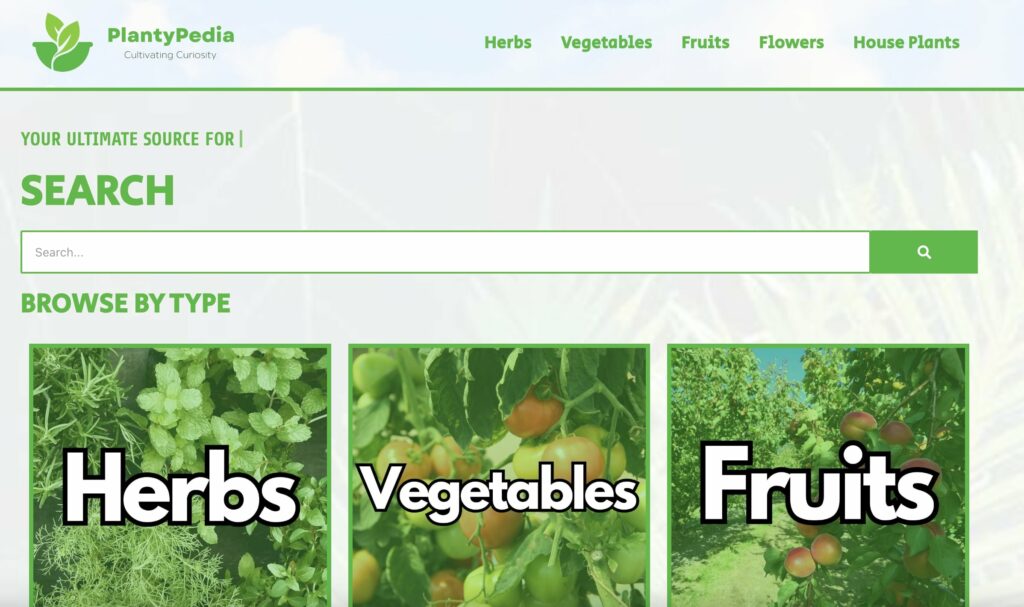 Go To Cleaning Services, LLC
Go to Cleaning Services, LLC is a West Michigan based business that specializes in exterior care and cleaning. We care about our clients and strive to offer the highest quality results at an affordable price. Our roots lie in pressure washing homes and driveways, but we have expanded to offer gutter cleaning, deck staining, and window washing. 
Website Illustrates custom theme design, Google API Integration & Facebook API Integration. Lead generation is the primary objective of this project.
Internet Hustles – Online Money Making Methods
Internet Hustles is your one-stop destination for exploring innovative and reliable methods to generate income online. Our platform offers a comprehensive collection of well-researched articles and expert advice on various money-making strategies, tailored to suit different skill sets and interests. From freelancing and ecommerce to affiliate marketing and passive income opportunities, Internet Hustles empowers individuals with the knowledge and tools needed to thrive in today's digital economy. Join our thriving community of aspiring entrepreneurs and seasoned professionals, and unlock your true earning potential with Internet Hustles.
This site integrates algorithmic and data-structured sorting within the posts. Use of SEO and Google Adsense is also demonstrated on this project.
WallpaperWLRD.com – Desktop & Mobile Wallpapers
WallpaperWRLD.com is a passion project I have started that helps users find the best wallpapers for their devices. We have over 5000 wallpapers to choose from and new ones are added weekly. Many ways to sort and find the wallpaper that is right for you. All images are copyright free and can be used at any discretion. 
Website illustrates implementations of MongoDB and includes a custom-built theme from scratch. Sorting algorithms were implemented to make finding wallpapers easier.
Temple Emanuel – Grand Rapids, MI
Temple Emanuel is a Reform Jewish community that embraces our differences to create a meaningful and spiritual experience to enhance Jewish life. Together, we learn, worship, serve, and continually define what it means to be Jewish today – within our community and beyond our walls.
The website integrates custom headers & footers and features an image-based design for all content.
Laser Access – Engage, Innovate, Deliver
Laser Access, LLC specializes in military and commercial applications of close tolerance fabrications, Flat Laser Cutting, CNC Brake Press Forming, MIG & TIG Welding, CNC Milling & Turning, 5-Axis Laser Cutting and Assembly Lines, supported by well-experienced engineering and quality teams, including top of the line CMM inspection room.


Check out the website created by Arad Okanin. Features such as quote submission are present but not activated currently.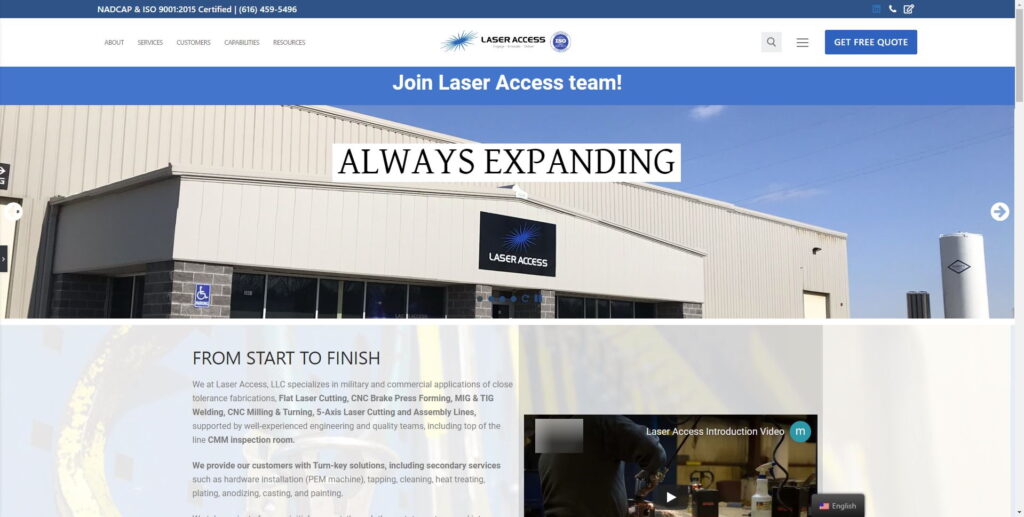 The West Michigan Holocaust Memorial
The West Michigan Holocaust Memorial, a website of the Jewish Federation of Grand Rapids, seeks to build a collection of stories on the survivors of the Holocaust that settled in West Michigan, and ensure its accessibility through preservation and digitization. The collection of stories serves as an educational teaching tool for the new Holocaust sculpture, Ways to Say Goodbye by artist Ariel Schlesinger, at the Frederik Meijer Gardens & Sculpture Park. It is our hope that the website will grow and become a resource for educators and our community on Holocaust education and programs.  In addition, the website serves as proof of the Holocaust, countering those who deny or manipulate history.
This website project integrates dynamic pages & custom animations, as well as special security measures to ensure that no intruders can get access to managing content.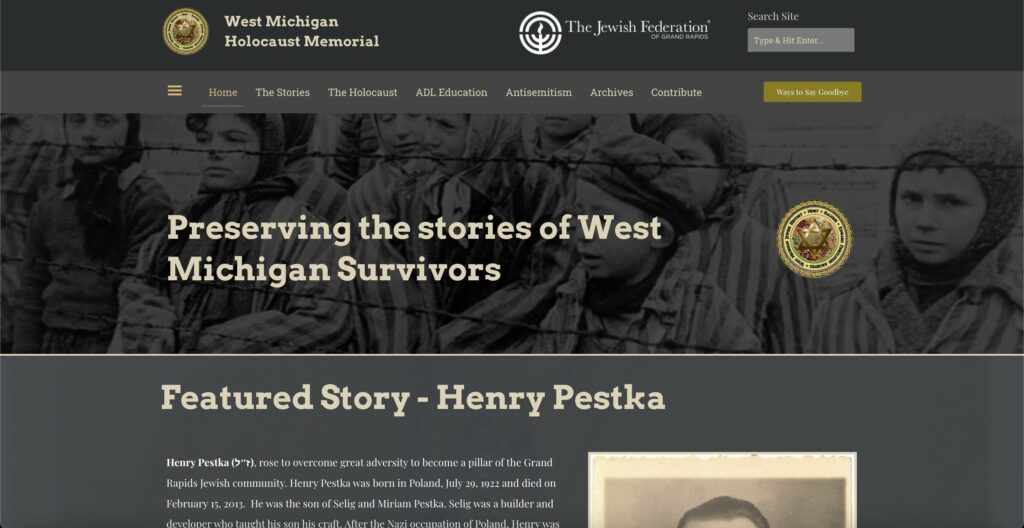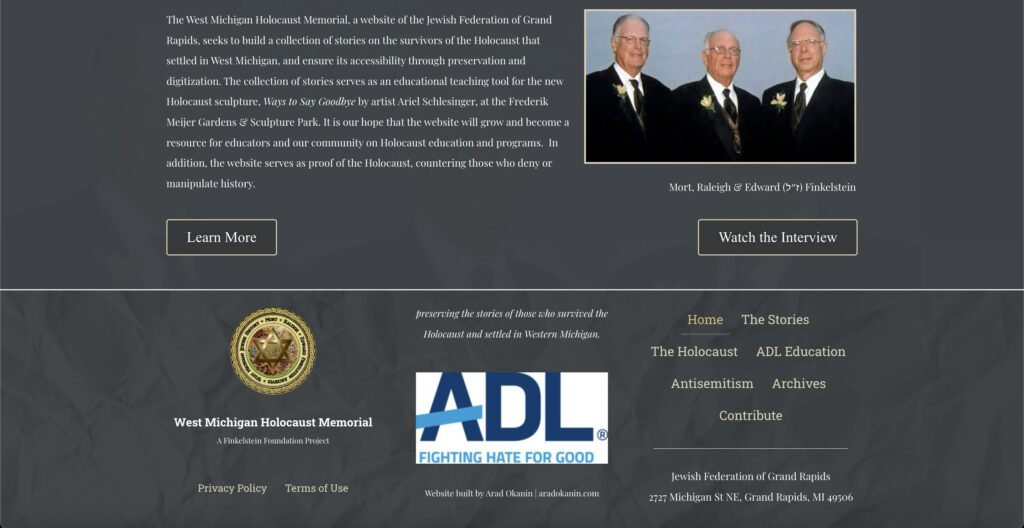 With over 10 years of experience in the DJ & entertainment industry, DJ Malky understands what it takes to get everyone excited & on their feet. Having worked with over 500 clients in Michigan, we know what it takes to make every occasion a great success.
And you can't beat the prices: any budget, infinite possibilities. We will diligently work with you to ensure that your event is fully covered and meets your expectations. We are open to suggestions and understand that in order to make your event special, we may have to think outside of the box.
Website presents intergal design & integration of Google API.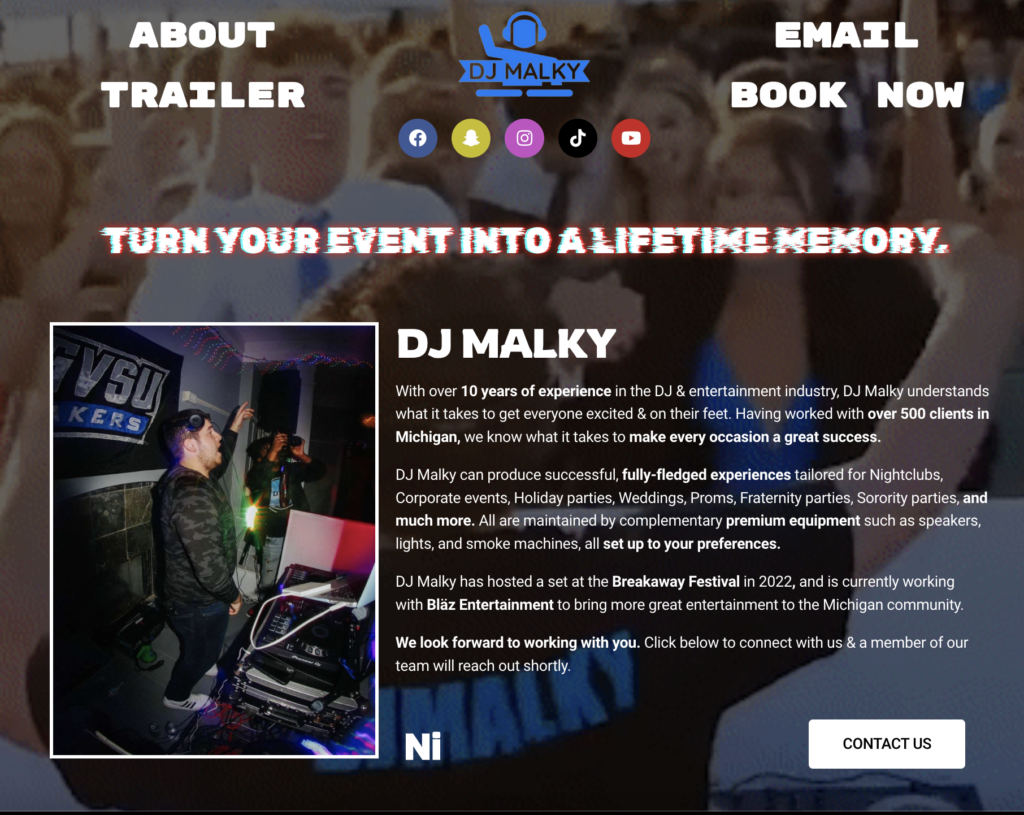 Rapdle.com (Project Under Construction)
Rapdle.com is a song-guessing experience in which players have 5 rap/hip-hop songs a day they can attempt to identify. Players listen to a short snippet of a the track and try to guess it's title within 8 seconds. For every correct response, a point is obtained on their account, and will be added to the weekly leaderboard. The top players in the leaderboard are subject to winning cash prizes and other goods provided by Rapdle.com. It's a great way to improve your knowledge in this music genre while having the ability to earn some money.
Website created is still in progress, and will feature javascript lazy loading & database caching. It is due to release in 2023.